Why are black and white always in style?
These two contrasting shades remain one of the most popular and enduring color combinations thanks to their adaptability to almost any decor style. The two colors help in making the living room appear far more urban and classy. While black anchors the room and helps highlight its prominent design elements, white lends a sense of airiness and balance to the backdrop.
There's a rule in decorating that says that "every room can use a touch of black." You might think this is strange if you have a room of pastels or jewel tones. But think a minute.
Using the color black adds a focal point of color that grounds, anchors, and adds a sophisticated look to a room.
Black in accessories, light fixtures, trims, paint, or in one bold piece of furniture will help to catch the eye and sharpen any decorating scheme. It will serve as an outline that sets off specific areas or objects. Black by itself is striking.
Below are a few products that embrace black and white. "What's on your design mind?"
Matte Black – Simply Sophisticated
https://barildesign.com/en/produits/cuisine/classique/arteh16/robinet-de-cuisine-monotrou-haut-avec-douchette-retractable-2-jets/
Kravet's Black and White Fabric – so versatile and always in style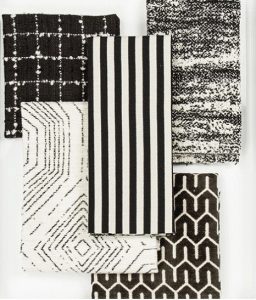 https://www.kravet.com/fabric?color_group=3727%2C3737
Check this out!
https://ca.subzero-wolf.com/en/videos/the-conversational-chef/cove-hardest-working-appliance