Are you a digital meeting expert by now?
Suddenly working from home full time has brought on a whole new world of challenges to stay productive, establish boundaries and keep your sanity.
I have appreciated the great tips for working from home during these unsettled times.
Have reliable tools and technology
Have a set location in your home to work
Maintain work/life boundaries and schedule
Create connections and collaboration
Find focus
The idea of working from home sounds simple and exciting to most however it has some challenges. Managing in a small space, having extra people around, unknown duration as we continue in these uncertain times.
While digital meetings are not a new thing, for many they are only now experiencing them on a regular basis. It is important to keep these things in mind when conducting or participating in a digital meeting.
Have a good data connection – Nothing worse than having a frozen picture or lost connection. If possible use a cable connection instead of wi-fi. Close any unused applications to give you more bandwidth and consider phoning in to reduce the computer requirements.
Hear and be heard – A phone or headphones will always provide a better experience than computer audio. The room you are occupying should have soft surfaces too absorb the sound and not have hard surfaces that the sound can bounce off. This will create an echo and make it harder to be understood.
Be present – Be prepared for the meeting. Gather your resources, put away your phone and advise your family that you are now on a digital meeting. When possible have your video on to been seen and see others as they interact with the content of the meeting.
Have a good backdrop – Nothing worse than seeing this morning's dishes in the background! Sit in an area with natural light and be aware of what is in your background. Is it visually appealing? Are there kids running around? Make a background with a sheet or investigate a digital background that you can import into your video. Give it some personality. Be creative. Have fun.
Stay connected – Working from home for some can be very isolating. It is difficult to stay connected to your team and engaged in your work. Find time to connect daily with your colleagues. Set up a Zoom conference where everyone can see each other and check in and catch up with each other. Let others know what you need.
We are all in this together. It is an ever-evolving work place and we all want to be productive and engaged. Happy meetings!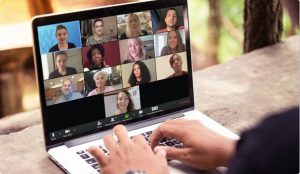 I enjoyed the Che metal email, along with their Covid 19 update, that said "We're socially distanced but professionally present."
Did this resonate with you? Has this been helpful? Please respond with your thoughts and tell us what's on your Design Mind.