Starting a Dental Practice? –  #9 – Color and Textures

Time to think about the pretty stuff
There is lots to address at this stage of the design process. We can start to add the color and textures to breathe new life into your clinic.
What colors and finishes do you like?
What colors do you not like? We can learn just as much by what you don't like.
Clarifying the aesthetics is the final step to completing the interior design stage. We have been continually discussing and building a list of the ideas that we can now make selections for. These materials will contribute to the overall style and uniform look of your new clinic.
How do the products selected enhance the patient's experience and bring further efficiencies and production to our space? What is your cleaning and maintenance protocol? This has a large factor in what finishes should be chosen.
How will each material relate to each other? Medical facilities have to use products that will be able to adhere to strict sanitizing requirements. Finishes need to be of a commercial grade to withstand the traffic and multiple end users on a regular basis. Let's not forget about how these finishes will be reflected in the budget.
The flooring is a significant element to the overall color palette. What impact will this have on the millwork and paint on the walls? What is the long term warranty of the product? Has it been designed for your application? Performance of interior products will ensure your new clinic looks new for a long time. While upkeep is important, you want to select products that will endure based on the application.
Your dental equipment and furniture also have color selections. Don't forget about these colors as they contribute to the overall color scheme also.
Do you have features within the interior design?
Tiles
Millwork
Accent panels
Wall coverings
A color board is created to assemble all of the finishes together and help you continue to envision the final look and feel of your new clinic. Being able to touch and feel the products is essential.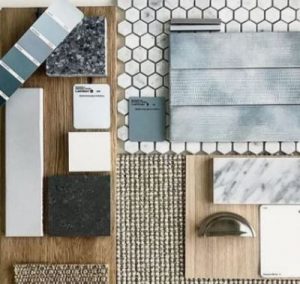 All of these decisions will be captured in one location. This information and color board will be at the center of all communications involved with your project and will be a great resource as we move to the next step in the Decca Design Inc. 7 step process.
We have helped many dentists realize their clinic dreams and eliminated the frustration and overwhelm associated with all the decisions you are required to make.
Book a complimentary Design Exploration call today on our website at decca-design.com/contact or call 403-230-1014.
We can get clear on exactly how we can help you bring your new clinic to life. If we see there is a way to work together; we can have the conversation. And if we don't think we can genuinely help we will let you know.
Contact us today. We are ready to help.