How to Minimize, Tidy and Clean like a Pro
If you want that "Wow, my place is amazing!" feel and you're willing to invest some time and effort into designer spring cleaning, you're in the right place.
Backed by more than 20 years of interior design experience, Jennifer Brown of Decca Design Inc. and her team share their designer insight on spring cleaning to create an inspired space. That's what we want for you. So stick with us as we help you clean your way to an inspired home.
Take a deep breath. It can be emotional, full of decisions and exhausting but don't stress. We've got your back. Most rooms will feel and flow better if they have 20% less stuff. Grab a box and write GIVE on it in giant letters. Out of every five items or furniture pieces choose one that might get better used in another home and put it in the box. Imagine what it might mean to someone else to find these great scores in their local thrift shop. You have something to offer and your space will thank you with simplified room flow.
Start with a quick win:
• Is there anything left over from the last season of life you don't currently need?
• Anything you're storing in that room that could go elsewhere?
• Put a sticky on anything you haven't touched this past year.
• Ask 'Is there something I'd rather have in here?'
For sentimental items:
• Take a photo of it.
• Frame it and write the story of what makes this item special on the back of the frame, then…
• Preserve the memory by: hanging its photo on the wall, make a wall collage, treasure these photos in an album or a keepsake box.
This way you can keep the sentiment, share it with friends and family and allow your space to be it's best for you.

Upgrade your walls:
What's on your walls? 6 year old family photos? Art you've never really loved? Upgrade it. Wall décor can be inexpensive or a splurge. There are plenty of options and it's totally up to you. Ask a friend what seems like you or call a great designer for help.
Nothing tidies a space quicker than decluttering. Make space for things that bring joy to your life. The greatest offender in a space that feels tired is too many things. They can look cluttered, busy and make a person feel frazzled.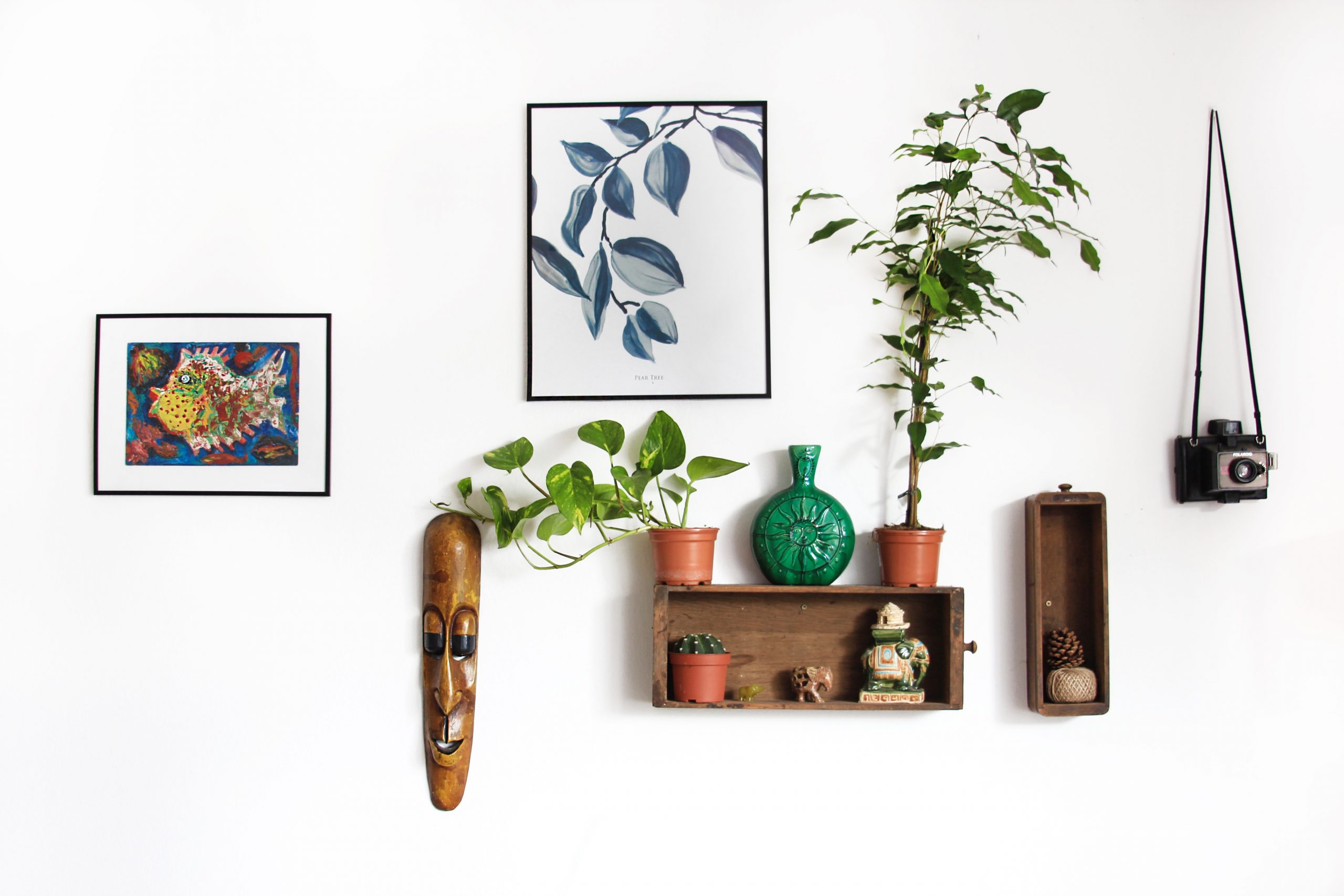 Group like items:
• Magazines, plants, books, knickknacks and frames make great collections.
• Style your items in groups of 3 or in a symmetrical pattern.
• Put a frame around a collection of small photos or a tray under a group of heirlooms and your room will feel more calming.
• Choose one large decorative item over a collection for a clean look.
Sentimental wall art might serve us better tucked away to be brought out at special times of year. We don't have to view them all the time to love them. A calming landscape might serve the room better on a regular basis.
When we tidy our space we tidy our minds, allowing space for new things to come into our lives. New plans, goals, ideas or throw pillows.
'It feels so clean!' You had 12 things on your mantel and now you have a grouping of 5 – dust those bad boys clean. You're keeping these items because you appreciate them, enjoy the things you love in their best state. Wash the windows, deep clean the rug, get rid of that wine stain, wash the cushion covers and wipe grubby walls and baseboards. It's about feeling refreshed. You can see it when you walk into a room. Perceived cleanliness creates a wow factor. Your house smells different, looks different, and feels fresh.
Now sit back, relax and put your feet up. You've done it!
Jennifer and the Decca team are determined to give you #RODI, Return on Design Investment. You've just invested our time and effort into designer spring cleaning and the return is an inspired home that you can enjoy for years to come.
If you want to see more spaces with that "Wow, my place is amazing!" feel, you might like our inspiring design showcases. Click Here. 
In full support,
Jennifer and the Decca team
If you are needing some inspiration, check out our website at www.decca-design.com or Pinterest.com. We can be found at Decca Design.
Has this been helpful? Please respond with your thoughts and tell us what's on your Design Mind.  We look forward to your comment below.