Autumn is here and with it comes some calming, soothing colors to refresh our homes.  These colors are reminiscent of all the leaves and cones you've raked off your lawn.
Sherwin Williams 2022 COLOR OF THE YEAR  Evergreen Fog
For more information contact:
https://www.sherwin-williams.com/
Metro Wallcoverings
Some rooms beg for more than paint.  Metro Wallcoverings can take you on a vacation without leaving the sofa. These colors too feel serene and sets a state of tranquility.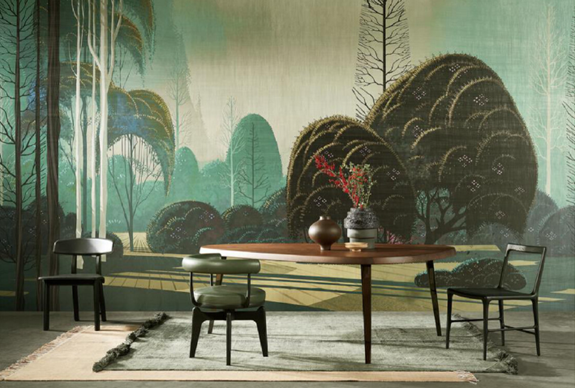 ARTE – Travel the World – Le Jardin Mystique – Fantasy – 37550
Additional Colors available
For more information contact:
403.245.9191
https://metrowallcoverings.com/
Odyssey Wallcoverings + Wood Panels
Adding a wood accent wall to your home or office will add another design element to your space and add a focal point of interest. Wood too, has a calming effect, a stress reliever and generates positive emotional experiences.
Cubist/Braque
Additional Colors available

For more information contact:
403.209.1881
https://odysseywallcoverings.com/