What's a design team doing in the kitchen?
The Decca Design team recently took a day away from the office to connect and team build by making antipasto at the Community Kitchen. In this commercial facility with four stoves blazing and all the tools and equipment imaginable, we got to chopping.
Everyone at Decca enjoys cooking, entertaining and most importantly, eating! Often you will find us doing all of these things together. It's a great way for us to interact, express our thanks to fellow team members and become rejuvenated and inspired. This in turn motivates us to create outstanding designs for our clients.
Design brings people together.
Cooking brings people together.
The Decca Design team is more than colleagues. We consider ourselves a close-knit family.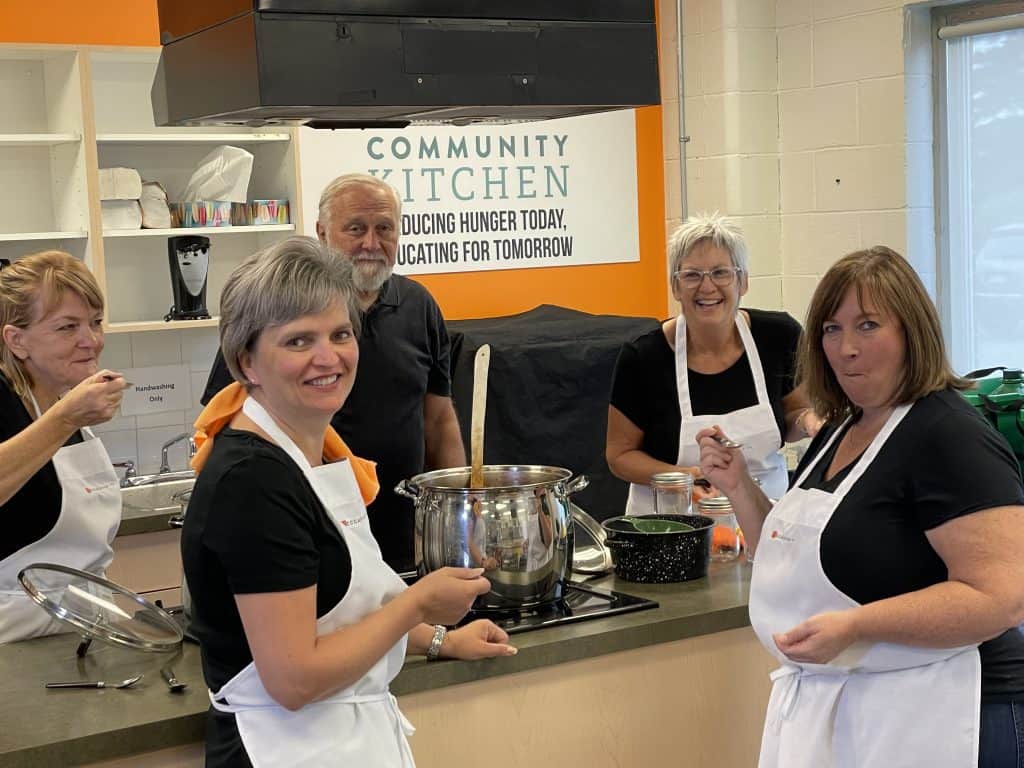 Here's our antipasto recipe from the Best of Bridge: Royal Treats for Entertaining
Buon Appetito!
Antipasto
8 oz. Olive Oil
1 Very large cauliflower, cut into bite sized pieces
2 tins of ripe olives, chopped
1 16 oz. tin of broken green olives, chopped
2 12 oz. jars of pickled onions, chopped
2 10 oz. tins of mushroom pieces and stems, chopped
2 Large Orange peppers, chopped
2 4oz. tins of pimentos, chopped
4 15 oz. Bottles of Heinz Ketchup
1 15 oz. Bottle of Heinz "Hot" Ketchup
1 48 oz. Jar of mixed pickles, chopped
Simmer 10 minutes and stir often.
Drain and pour boiling water over the following to rinse:
2 Tins of anchovies, chopped
3 7 oz. Tins of solid tuna, chopped
3 Tins of small shrimp, chopped
Add anchovies, tuna and shrimp to mixture and place in sterilized jars and seal.
Serve with crackers or chips.