Start your winning clinic quickly and easily, without costly mistakes!
You have been putting in countless hours of hard work and time as an associate and now you feel ready to take the leap to having your own practice. 
You are ready to start planning …and then the questions start coming:
Where do I start?

How do I know that I am doing it right?

How much is this going to cost?

What if it fails?

When am I going to get all these things done?

What do I want my clinic to look like?

Who do I call?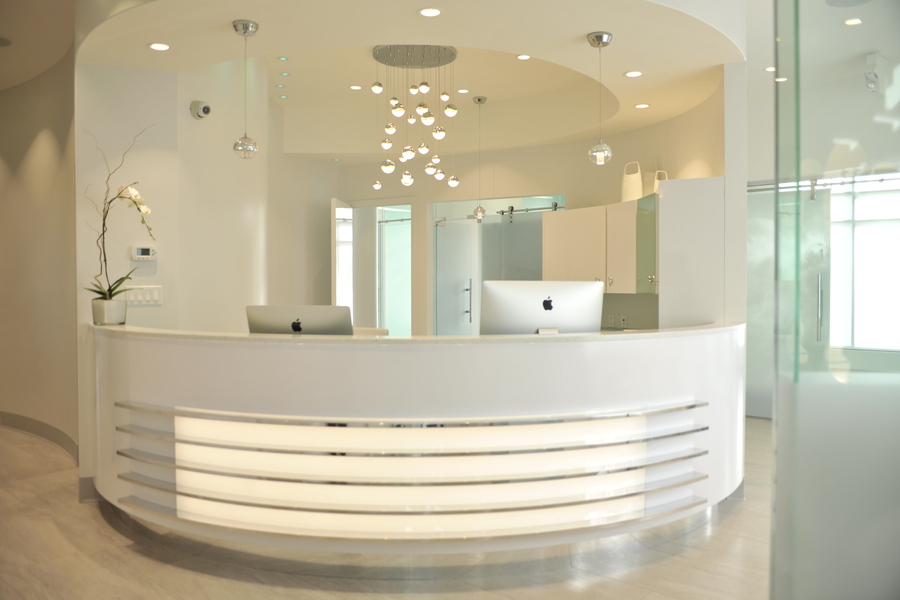 You want this to be quick and easy….  If only you had 
a map 
to follow,
people to support you and the reassurance that you will succeed.
With the right knowledge, starting your own practice can be easy, fun and rewarding.
Let us show you how…  In half the time and without the hassle.
With the right road map you will be able to:
Create your new clinic quickly, efficiently and within budget without stressing over every little detail.
 Get your project started the right way and keep it moving without delays or expensive setbacks.
Enjoy a worry-free process that won't keep you up at night.
Starting a clinic is one of the most important investments you will make in your life and you don't want to screw it up!
We have seen first hand the struggles, time delays and expensive setbacks many dentists and doctors have experienced. We know there is a better way to support you with your design and the building of your clinic.  We have broken it down into small tasks to increase your success.
We have been honing our process for over twenty years and want to share that knowledge so you can learn from our experience and create your clinic in less time with less frustration.
Decca Design has guided hundreds of dentists and doctors like you through the decision making process to eliminate confusion, and establish your own highly profitable clinic.
Create stress-free prosperity with our
"7 Simple Steps to Build Your Winning Clinic."
"Thank you for all the amazing work on our reno!  I have truly appreciated your patience, efforts, time and professionalism.  Thanks again as you truly did take stress off me at a time when I needed it."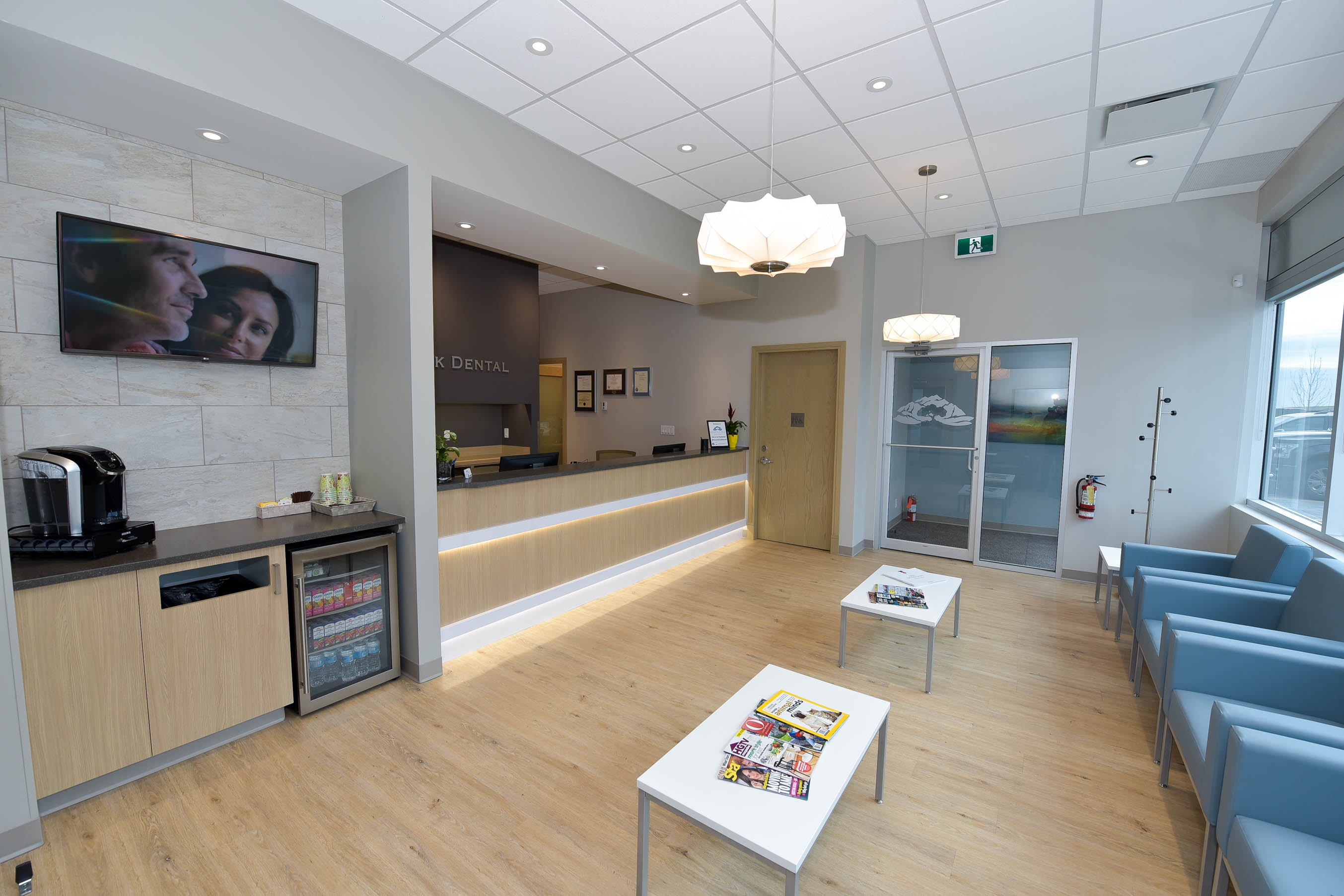 Let us help you with our "7 Steps to Build Your Winning Clinic" video training series.
This cut-to-the chase video training series will guide you through the steps necessary to create your perfect clinic.  We know you are time starved, so in less than one hour, you will come away with a checklist, ideas and clear direction.
Here's why the 7 steps are going to work for you:
They are Simple.
With more than 20 years of medical design experience we understand there is no need to complicate the process. By using our proven step-by step system we will ensure that you have the right team, no details are missed, and your clinic performs.
It's your Vision.
We understand you want to do things your way.  You have been making notes, gathering pictures and visualizing your clinic.  It's time to bring all these ideas together.
You are in Control.
After all, this is  your clinic.  You will be pouring yourself into this investment. You know what patient experience you want to deliver and  know what you want the end result to be.
Each step will support you in creating your dream clinic:
Before you start, it's good to gather a team that will support and guide you. In this step you will learn:
• The formula for selecting the right team of experts to support you and reduce your stress
• How to ensure each team member adds value to your investment and produces a great return
• The one thing to understand when engaging team members is to not create time delays.
During this step you will receive the initial checklist of information you need to establish:
• The 6 critical components to your business plan to set yourself up for success
• The importance of creating realistic goals and timelines that support, not hinder your project
• 7 line items you must include in your budget to avoid unexpected expenses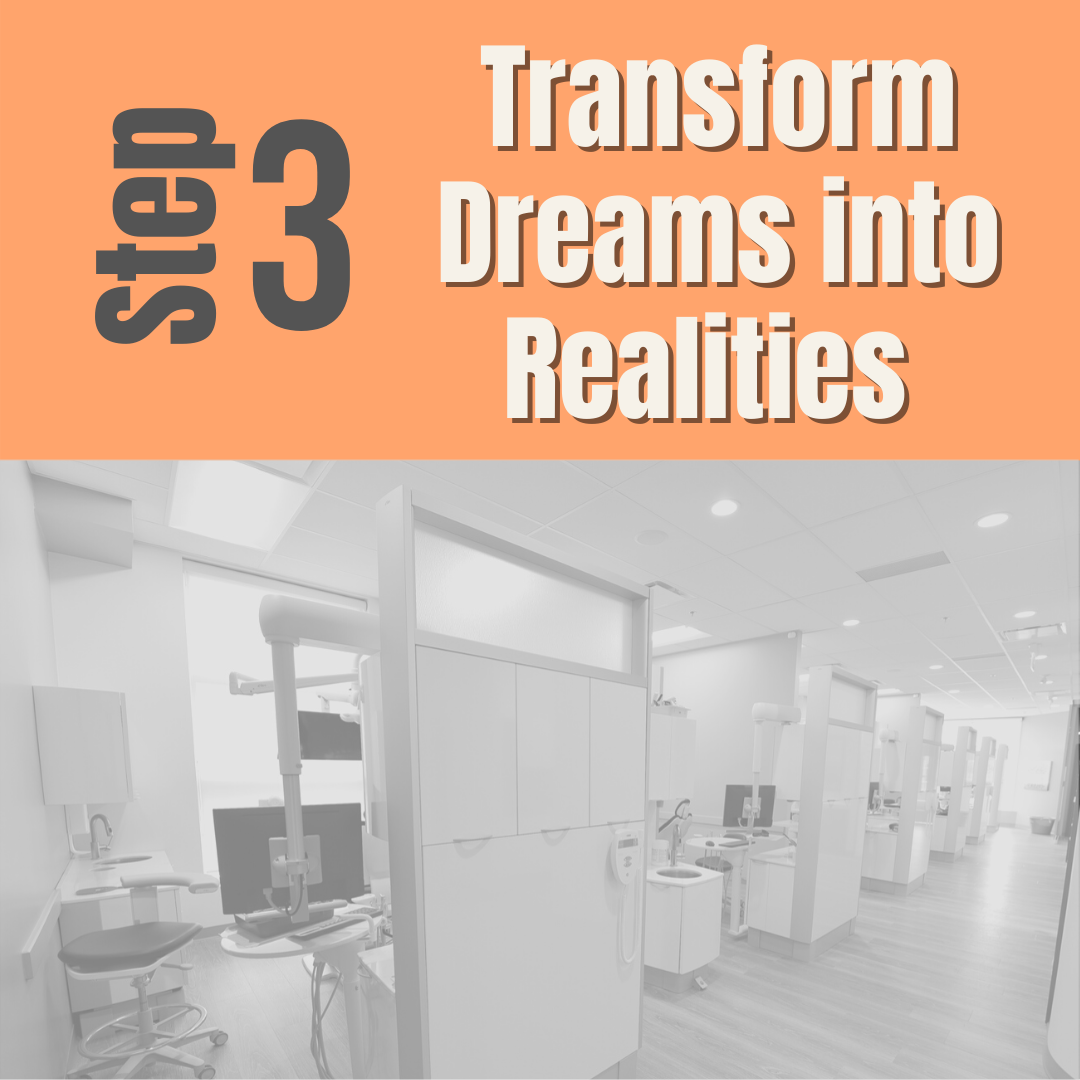 Let's take your technicolor dreams and turn them into something tangible. During this step you'll understand:
• The secret to defining your vision so you end up with your perfect clinic
• How to determine how your clinic processes are managed to save time
• Tricks to establish a patient experience that keeps them returning and referring their friends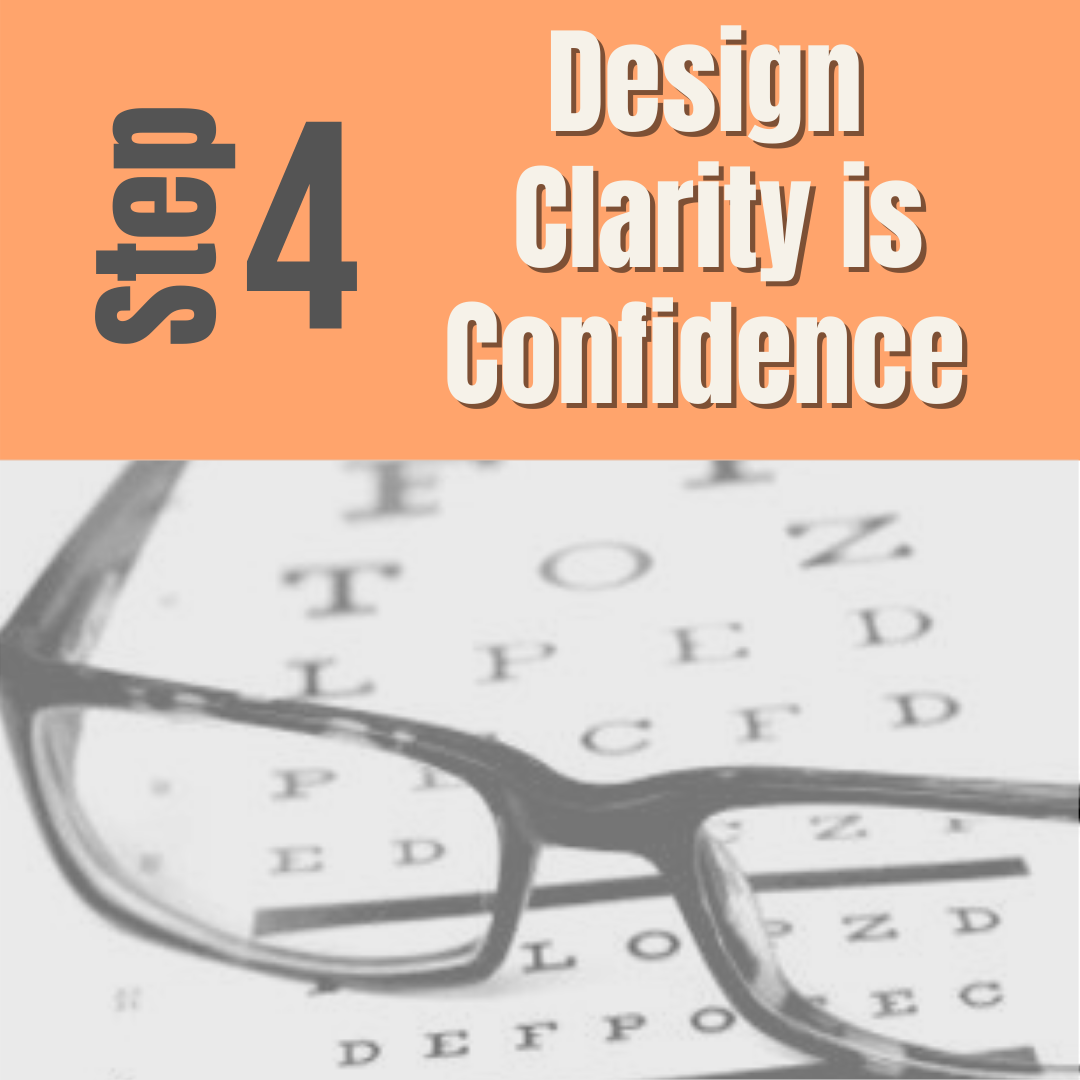 Planning has never been so fun. Throughout this step we will identify:
• How to design the look and feel of your clinic so that you can select finishes to enhance your vision
• What you must know to plan your built environment, save you time and make you money
• 3 tips to build a clinic culture that fosters staff retention and attracts the best employees.
The more support the better. During this step you will recognize:
• What it means to partner with the professionals that move your project forward and understand your budget.
• Why you must invest in the people who uphold the processes of your clinic and help it grow.
• The method to establish the resources you need to operate a functional, profitable clinic.
Get ready to see your ideas come to life. In this step you'll determine:
• The key to construct your clinic effectively so it completes on time and on budget.
• What you must learn to ensure your best interest is protected during the building stage
• The procedure to organize the finishing details to support your staff and patient experiences
You have reached a milestone. In this step you discover:
• How to celebrate this milestone; and set up your practice.
• 3 ideas to introduce your clinic to the world and let them know you are ready to serve.
• The key to welcoming your new patients and creating lifelong relationships.
"Secondly, thank you from the bottom of my heart.  This project has had its ups and downs but through it all you always had our backs and that means so much to us.  This is a rare quality these days, and it is so refreshing that someone still exudes these qualities."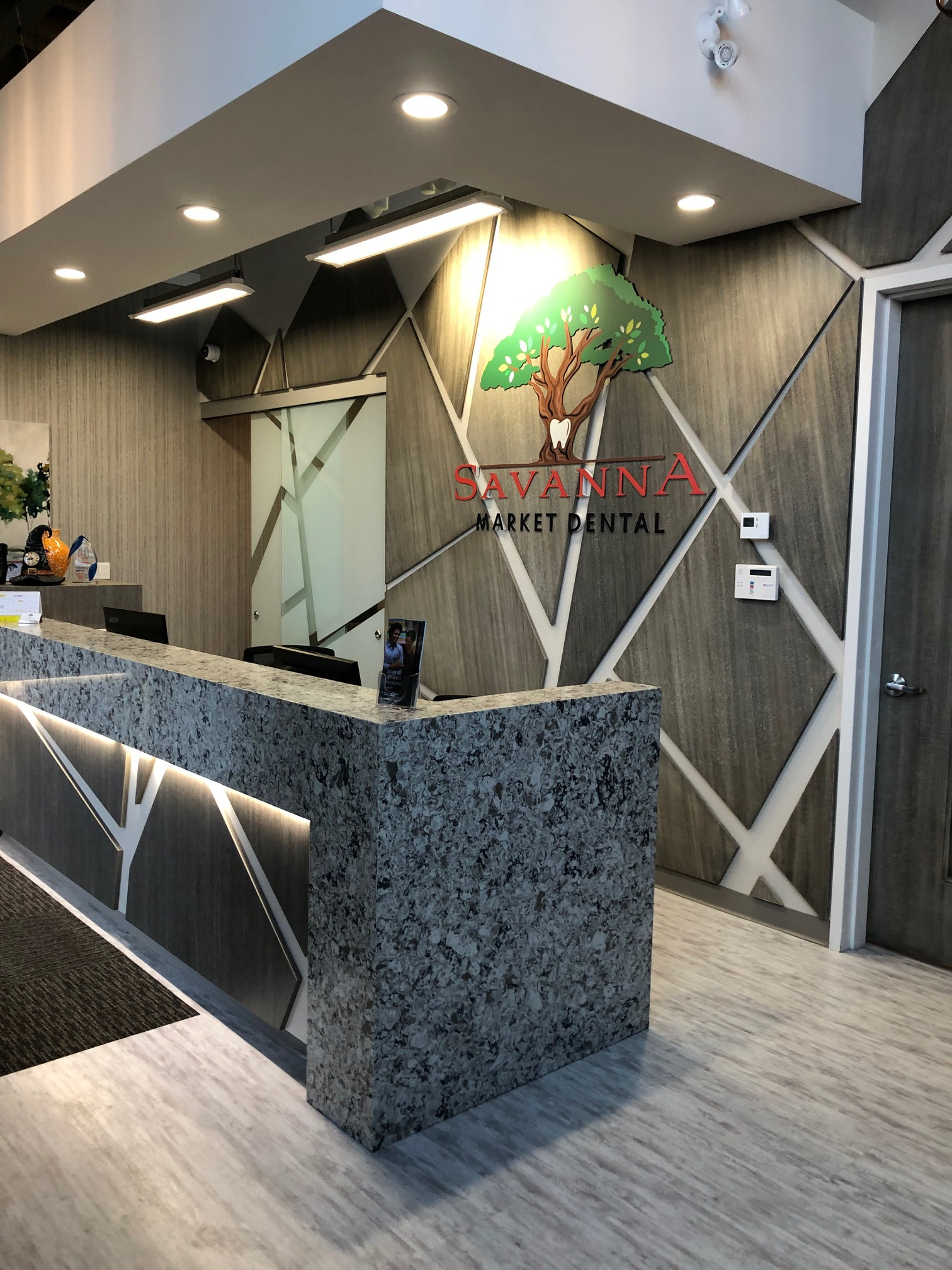 You are busy… with a lot on your plate. That is why we created this short, concise video training series to outline the steps and ensure your project gets off on the right path.
In less than an hour you'll know exactly what you need to do to start your clinic.
Get the support you need.
Decca Design has been helping dentists and doctors realize their dream spaces for over twenty years. We have the experience to walk you through the steps in order to complete your project on time, on budget and on target when it comes to your vision.
9 Training Videos    
You can complete the entire series in less than one hour, in the comfort of your own space.
They are quick and direct. We will get straight to the point and pack valuable information in every video.
This information will save you countless hours of worry, frustration and fear and put you on the right path for only

$37
Don't create the wrong space for you and your practice. You have the skills, ambition and drive to be able to help your patients by offering the best dental care and patient experience AND you can make sure your decisions will deliver on your bottom line.
"It was so easy and the Decca team made it stress-free and fun.  From the initial questions, to the organized meetings, they helped me take a large, daunting project and together, we completed it in bite-size chunks.
Every meeting we made progress on the project.  I had complete confidence.  The project was completed on time and within our budget.  The design is fantastic!  We get many compliments from our patients.  I love working in a space that was perfectly designed for my needs."
Your time is money and you need to make the most of it with efficient decisions and a team that can bring your project to life, so you can get back to doing what you do best.
You can have the clinic of your dreams – with an easy, inspiring process, on time and on budget.
We can help make this easy!